The Jay Contway Art Sale
Over the next months, a limited number of original bronze sculptures are being offered at reduced prices per month. They are advertised exclusively online and contacting Lynn Contway will make the sale. First come, first served.
However, if a piece is currently on our website, additional sculptures can be ordered at the sale price. The wait will be at least 6 weeks (depending on the foundries).
The 2019 Jay Contway Art Sale – October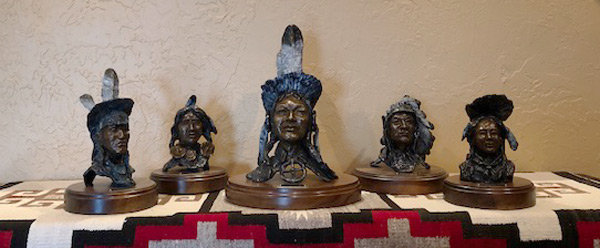 Jay has kept many pieces over the years. These are five that were tucked away on his storage shelves. Each is small and light, cast in his own foundry where he could make sure every detail was correct. All five bronzes exhibit Jay Contway's signature style, his use of color and detail are what make these sculptures fine pieces of art that will bring pleasure to viewers for many years.
---
#1 of 5 is the 1985 Model – Mervin Good Eagle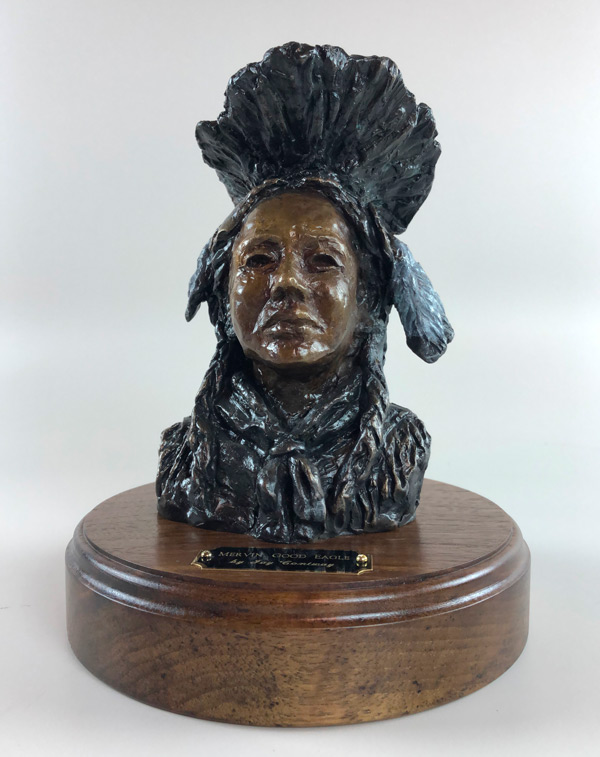 1978 – 1996
Mervin was a member of Siksika First Nation and just 7 years old at the time Jay Contway asked him to sit as a model. He was a student, a traditional dancer and a grandson of a teepee owner.
"Mervin was a great kid, so bright and fun to talk to. He came back each year to visit with me at the Stampede. He was enthusiastic and he talked about all the things he wanted to do. It makes me sad to know that he passed way so young. I will never forget this great little kid"
Originally $1500 on sale NOW only for the month of October, 2019 for 25% off.
Your price $1125
---
#2 of 5 is the 1986 Model – Joanne Black Kettle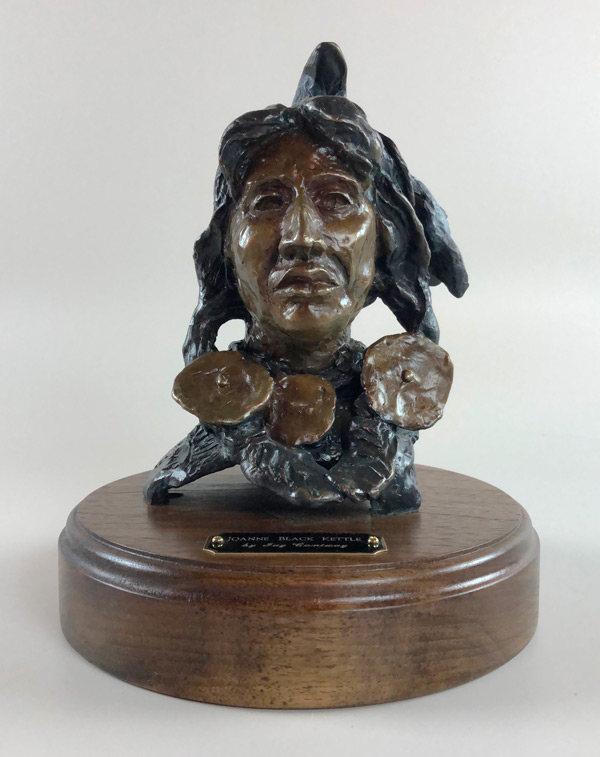 1969 –
At the time Jay Contway met Joanne she was a 17 year-old student, a dancer and a daughter of a teepee owner at the Stampede.
"I met Joanne over 20 years later when I was visiting in the village. She was at her family teepee on the Stampede grounds. To me, she looked just the same. She remembered me and we had a good visit. It is good to know that traditions continue on"
Originally $1500 on sale NOW only for the month of October, 2019 for 25% off
Your price $1125
---
#3 of 5 is the 1989 Model – Singing With Old Men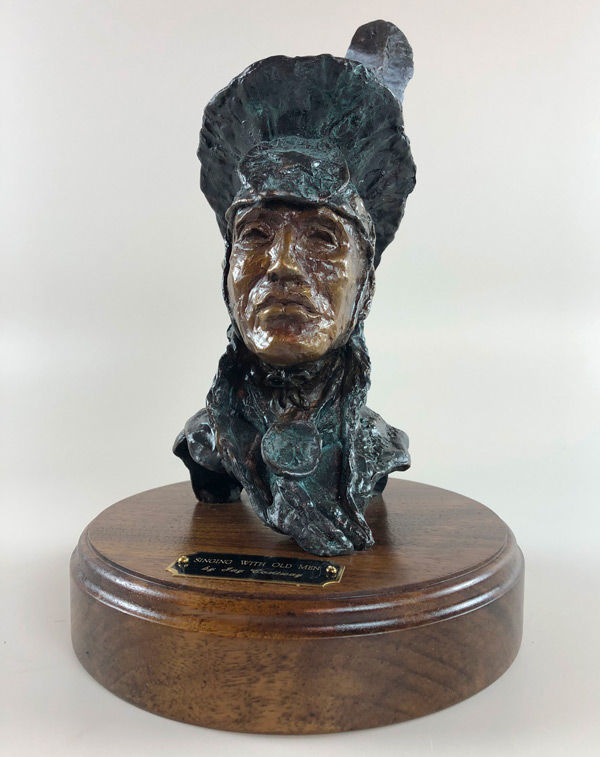 For 27 years Jay chose a Face in the Crowd at the Calgary Stampede and turned that unique face into a bronze sculpture. The sculptures were sold at auction and the proceeds supported the Youth Scholarship fund for art.
Jay kept track of many of his models but lost a few over the years. Last night he had a message from Facebook asking if Jay remembered a young man who sat for him in 1989. Wow, a voice from the past.

Jay knew him as "Singing with Old Men" but he had no other information. 29 years later he is known as Sings in the Trees (litstsaansski). His English name is Winston Wadsworth Jr. He is married to a lovey lady named Katelyn. They have 7 children and 4 grandchildren with one on the way. Winston is a traditional artist and teacher. He and Katelyn specialize in hide tanning, quillwork, beadwork, pottery etc. His father is from the Blood Tribe and his mother from Tsuutina. The family tipi, which is still set up every year for the Calgary Stampede, is in the care of Teresa Big Plume and has been at the Stampede since 1912. So great to know that a happy successful life has followed this young man whose face captured Jay's interest so many years ago.

You can read more about this story here
Originally $1500 on sale NOW only for the month of October, 2019 for 25% off
Your price $1125
---
#4 of 5 is the 1988 Model – Johnny Lefthand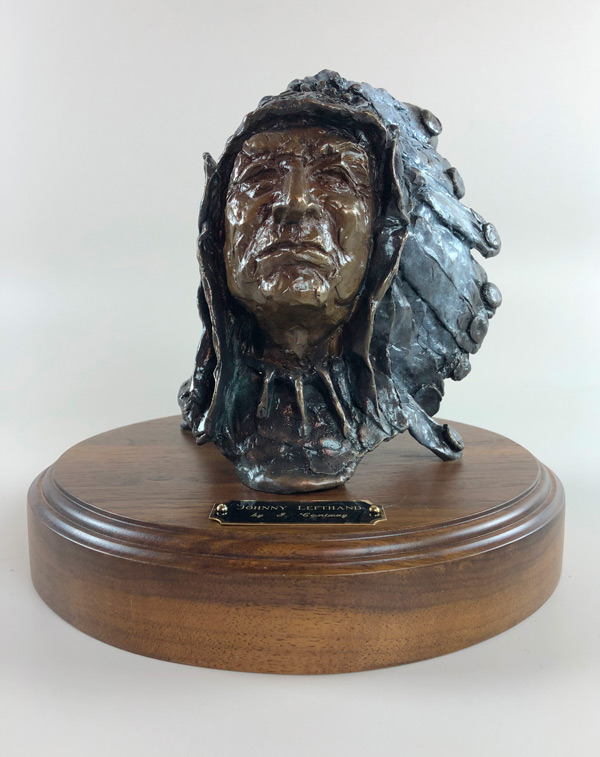 1908 –
Johnny Lefthand was a member of the Stoney Nation who lived most of his life at Eden Valley, Alberta. He reminisced with Jay about the time in his life when he hunted and trapped and lived a slower pace, closer to nature. Johnny was a leader in his community. He had been to England to ride bucking horses in an exhibition for her Majesty the Queen. He travelled with 7 other Native cowboys to Australia to preform in a rodeo in 1939. He was a humble man and incredibly interesting to talk to.
"I really liked this man. I went back to visit with him for many years. I enjoyed him"
Originally $1500 on sale NOW only for the month of October 2019 for 25% off
Your price $1125
---
#5 of 5 is the 2004 Model – Bo Hunter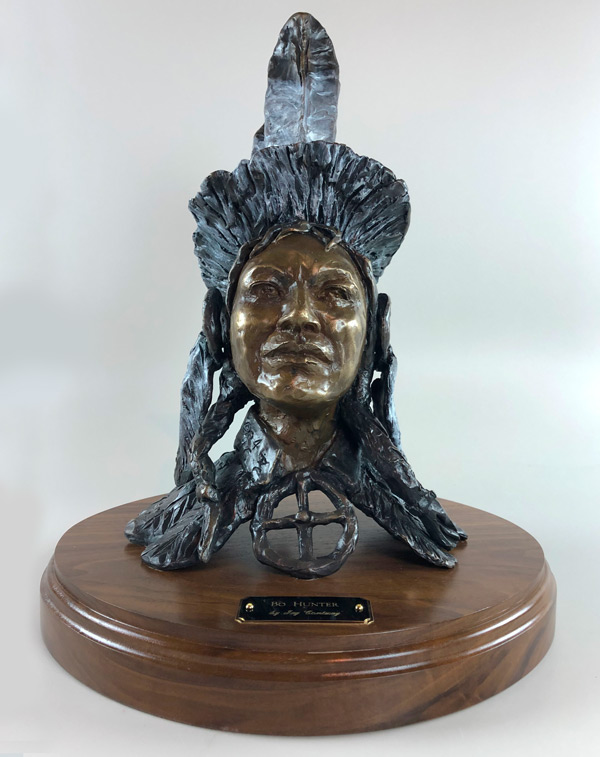 2001 –
Bo originates from Morley, Alberta and was 13 year old when Jay choose him as a "face in the crowd" model. Bo plays hockey and dances in competitions.
"Bo was a nice young boy who I could tease. He was a gracious model and he came back for the next few years to visit with me"
Originally $2500 on sale NOW only for the month of October 2019 for 25% off
Your price $1875
---
Stay tuned each month for more Jay Contway original bronze sculptures at significant savings. Now is the time to begin collecting Jay's art or expand your collection. Remember, you are the first to be offered these sculptures at reduced prices. First come, first served.
Please call Lynn Contway at ‭(406) 868-8684 to purchase yours today!
Join our email list to be the first to know about any upcoming auctions, shows or pre-order bronze price specials like this ongoing sale. We will never share your private information, we do not send out too many emails, and you can unsubscribe at any time. Win, win, win! We like to treat our friends right.
Sign up here: Subscribe to our enews
---
Life Changes
Old age catches up to us all and Jay Contway is no exception. Years of roping and riding and pouring pots of molten hot bronze have wreaked enough havoc on his back that he is now wheelchair bound. His mind prefers to remember the glory days of youth and accomplishments of a world-famous artist rather than the humdrum details of everyday living in the care of others.
To date, Jay has made over 225 different sculptures and cast over 6000 pieces of his work, turning them into salable treasures. Together with his wife and business partner, Lynn, Jay intends to cast out the remaining models until each has been completed. The Contways have been working with excellent Montana foundries for several years so they are completely confident in the quality of the work being produced.
Stay tuned for more information! You can always call Lynn Contway with any questions: mobile (406) 868-8684