The Jay Contway Art Sale
Over the next months, 3 sculptures per month will be offered at reduced prices. They will be advertised online and contacting Lynn will make the sale. First come, first served. However, if a piece is on this current website catalog, additional sales can be ordered at the sale price. The wait will be at least 6 weeks (depending on the foundries).
The 2019 Jay Contway Art Sale – August
Jay has kept many pieces over the years. These are three that were tucked away on his storage shelves. Each is small and light, cast in his own foundry where he could make sure every detail was correct. All three bronzes exhibit Jay Contway's signature style, his use of color, action and detail are what make these sculptures fine pieces of art that will bring pleasure to viewers for many years.
---
#1 of 3 is the 1992 Bull Rider (Artist Copy)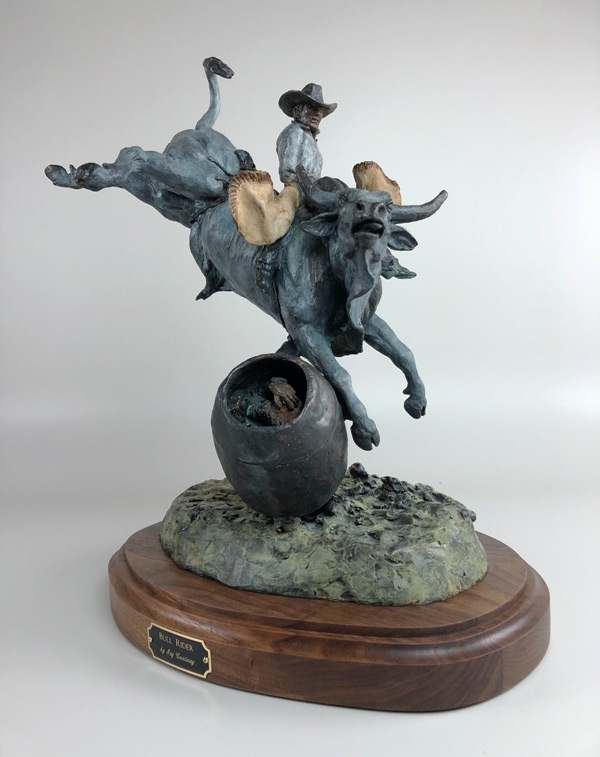 The Bull Rider has a clown tucked deep inside the barrel as Jay has seen so many times over the years of attending rodeos. His keen eye for detail and understanding of athletes in motion make this winning ride a show stopper for sure!
Originally $3500 on sale NOW only for the month of August, 2019 for 15% off.
Your price $2975
---
#2 of 3 is the 1976 Bareback Rider (Artist Copy)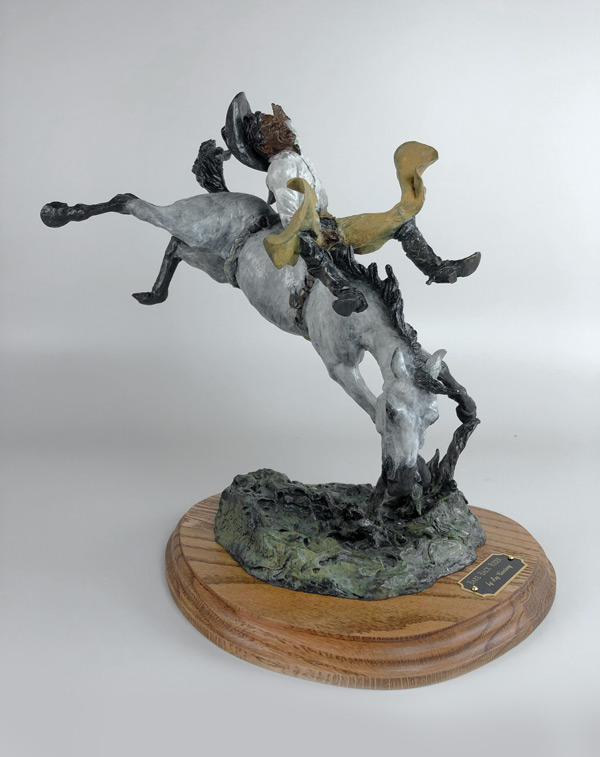 The Bare Back Rider is Jay's artist copy of one of the first rodeo pieces he made. The more recent pieces are larger but this one is perfect in every detail. The action in this bronze is amazing and if you can't hear the bronc as he bellers with each jump, you have never been to a rodeo!
Originally $2000 on sale NOW only for the month of August, 2019 for 15% off
Your price $1700
---
#3 of 3 is the 1989 Wyoming Centennial (65/100)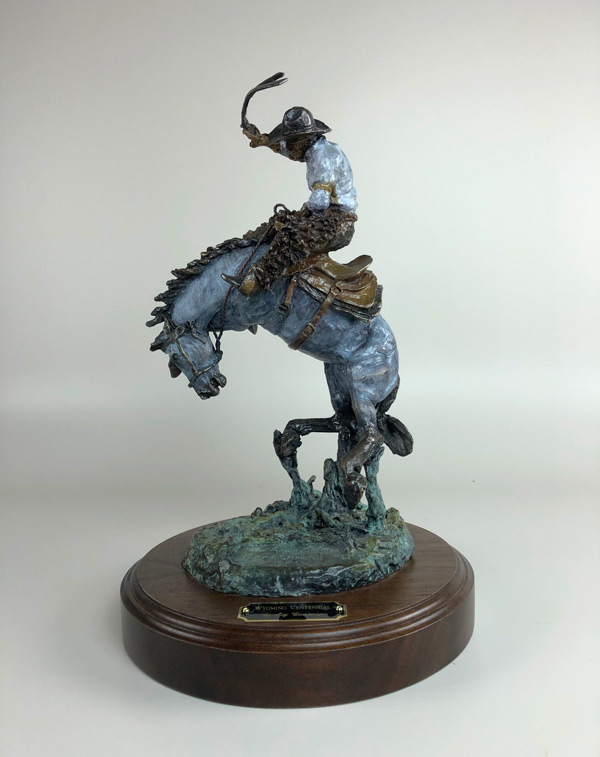 The Wyoming Centennial was made for the 1990–100th year of statehood celebrations. The iconic elements of this piece make it feel exactly like a Wyoming cowboy hard at work, from the woolly chaps and hackamore to the shirt garters and wild rag, you can almost smell the sweat and hear the grunts as man and horse test each other's skills.
Originally $2500 on sale NOW only for the month of August 2019 for 20% off
Your price $2000
---
Stay tuned each month for 3 more Jay Contway original bronze sculptures at significant savings. Now is the time to begin collecting Jay's art or expand your collection. Remember, you are the first to be offered these sculptures at reduced prices. First come, first served.
Please call Lynn Contway at ‭(406) 868-8684 to purchase yours today!
Join our email list to be the first to know about any upcoming auctions, shows or pre-order bronze price specials like this ongoing sale. We will never share your private information, we do not send out too many emails, and you can unsubscribe at any time. Win, win, win! We like to treat our friends right.
Sign up here: Subscribe to our enews
---
Life Changes
Old age catches up to us all and Jay Contway is no exception. Years of roping and riding and pouring pots of molten hot bronze have wreaked enough havoc on his back that he is now wheelchair bound. His mind prefers to remember the glory days of youth and accomplishments of a world-famous artist rather than the humdrum details of everyday living in the care of others.
To date, Jay has made over 225 different sculptures and cast over 6000 pieces of his work, turning them into salable treasures. Together with his wife and business partner, Lynn, Jay intends to cast out the remaining models until each has been completed. The Contways have been working with excellent Montana foundries for several years so they are completely confident in the quality of the work being produced.
Stay tuned for more information! You can always call Lynn Contway with any questions: mobile (406) 868-8684